Theocratic Ministry School Software Program 2014
TMS Explorer is a Windows software program for the Theocratic Ministry School.
11 years old and counting! Click here to see a history of changes over the years.

TMSE is now fully UNICODE capable and will support ALL languages.
Features
Keep track of your students, their talk history, study points, setting history
Schedule the assignments
Print the assignment slips - just load the blank slips into your printer and click
Print the schedule to post on the information board
Print a handy worksheet for use during the school
An Explorer-style "tree" for easy navigation
Features an Outlook-style buttonbar
Rich printing options including integration with MS Word with a variety of style templates
Multi-language support; simply click File &gt&gt Select Language and choose your desired language
"Live updates" ; download the latest version with new features and bug fixes as well as language updates
Support for 3 schools
Email reminders to your students
The ability to block a student as unavailable. For example, they may be on vacation for a range of weeks, or might already have a part assigned on the Service Meeting for a particular date.
Plus lots more features...
Available in These Languages
These languages are available now and fully supported
Albanian
ASL
Bulgarian
Chinese (Simp.)
Chinese (Trad.)
Croatian
Czech
Danish
Dutch

English
Finnish
French
German
Greek
Haitian Creole
Hindi
Hungarian
Italian

Japanese
Korean
Latvian
Norwegian
Polish
Portuguese
Punjabi
Romanian
Russian

Serbian
Slovak
Spanish
Swahili
Swedish
Tagalog
Ukrainian
Yoruba
These languages are possible, but are not actively being supported right now
Contact me if you would like TMSE in one of these languages
Afrikaans
Armenian
Cibemba
Efik
Estonian
Georgian

Gun
Hiri Motu
Igbo
Indonesian
Malagasy
Sesotho

Slovenian
Turkish
Twi
Vietnamese
Zulu
30 Day Free Trial
Click here to proceed to the Download page - test drive TMS Explorer free for 30 days.
The Mobile App is Ready!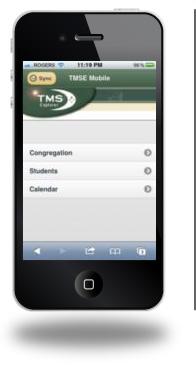 Now you can view and edit your student data from your mobile Smartphone.
Works with HTML5/CSS3 compatible browsers (iPhone/iPads, Androids and newer Blackberries)
No need to install anything on your phone
It's a web app. Simply browse to www.tmsware.com/mobile
Works offline, so there's no need to be connected to the internet while working with your data.